! Auto Kraft Lincoln Nebraska Used Cars Restorations Auto Body->


Tiger Racing Mustang arrives at Auto Kraft for body prep and paint treatment.
Doug and Paul test fitting different panels for fitting and discussing procedures. Note custom built fender for heat extraction and down force.
Doug working on fender modification. The night crew steps into action to help meet deadline.
More testing fitting, cutting, trimming, etc. Finally body is complete and paint is applied.
Now back at HP Motorsports, Paul has many countless hours of work to do. Finally complete and on the way to the SEMA Show in Vegas.
Test and Tune day at Mid America Motorplex. Looking good, sounding good, ready to go racing. This is a quick look at some of our involvement in the motorsports world with body fabrication and paint work.
"Rubbing is racing"
As with any racecar, racing is risky. As in the case with Carol Hollfelder's world challenge mustang, She experienced another driver getting too aggressive in the corner at the third race in Lime Rock, Connecticut which took out her and the other driver.
As you can see, the sheet metal damage was fairly extensive. Some frame straightening also had to be done.
You can see Joel and Doug urgently proceeding with repairs on this car as we only had four days to complete it.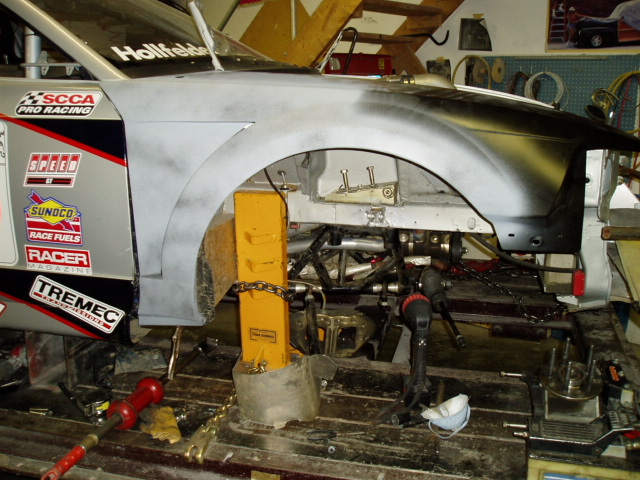 A new front fender was re-fabricated with the brake cooling vent. The painter was standing by waiting to finish the job and get the car back in the truck for a special event in Detroit. Look for this car to appear on the cover of one of the Mustang magazines.
UPDATE: We just found out Carol did well at the Atlanta race finishing 15th with no scratches or other mishaps.

712 W. Cornhusker Hwy.
Lincoln, Nebraska